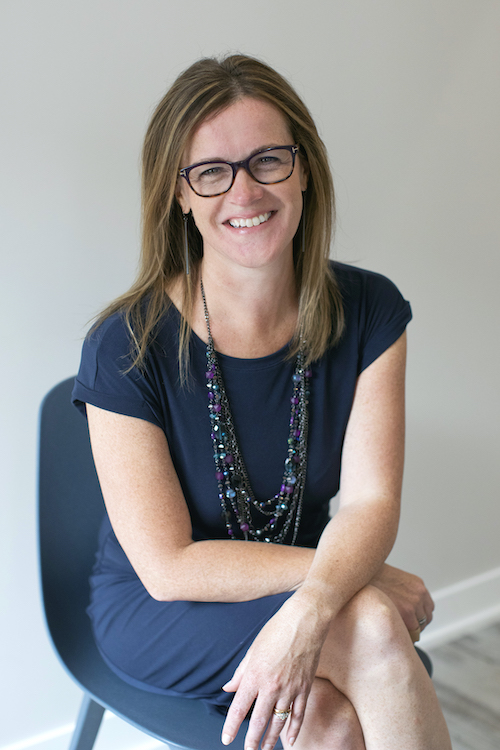 I grew up in Massachusetts and received my Bachelor Degree in Biology and Psychology from Rensselaer Polytechnic Institute in New York. I moved to Minnesota in 1997 and attended Northwestern College of Chiropractic where I received my Doctorate of Chiropractic and met my husband, Dr. Jeremy. He convinced me that Elk River was half way between the east coast and the Iron Range so this is where we landed. We have three outstanding sons and two yellow labs; TJ is 18, Jack is 16, Nick is 14, Oliver (Ollie) is 4 and Eevee is just a puppy. Our family free time is full of basketball, traveling and more basketball.

My chiropractic journey began back in college when I started getting debilitating migraine headaches. I was having 1-2 per week accompanied by nausea and/or vomiting and a strong sensitivity to light, sound and smells. Like many people, I started with a traditional medical approach to deal with these headaches. I had my eyes examined, went to an EENT, tried breathing oxygen from a mask during episodes, and then came the drugs. One caused me to gain 10 pounds in a month; another made me feel almost no emotion. Then, they wanted me to try Lithium. I remember exactly what the doctor said to me "We'll have to draw blood periodically to make sure you're in the therapeutic window, because not enough won't do anything and too much could kill you." I knew then this was not the right path for me. Although the Imitrex injection I was taking when I got a headache was effective at eliminating it, I was concerned about the long term effects of this drug. My pharmacist then suggested that I try the chiropractor down the street. No one in my immediate family had ever been to a chiropractor, but we gave it a try. After my first adjustment with her, I went three weeks without a headache! I couldn't believe it. It was then that I began pursuing more information about what it took to become a chiropractor. Today, I rarely have a headache. I have found that the combination of chiropractic adjustments, diet, massage and exercise keep me headache free!
While pain and headaches got me interested in chiropractic, educating growing families is my passion. I have the absolute pleasure of seeing families every day in practice. I enjoy checking and adjusting new babies and pregnant women using gentle techniques like craniosacral therapy, the Webster technique and drop tables. I actually loved being pregnant! But, it made me so sad when patients would say that I was the only person they knew who talked positively about pregnancy and birth. Those comments drive me to share more and more about how wonderful the birth experience can be. I even became a Certified Childbirth Educator so I could serve even more people outside of my practice. I want every couple to know they have choices!